Aquarius 5 star PADI Dive Center
Situated in the more temperate South Tenerife we are an accredited PADI 5 Star Dive Center. Aquarius diving has been providing high quality diving and equipment services since 2005.
Our dynamic and motivated team have a range of international experience. We are here to ensure you get the most out of your dives, plus provide professional training to new divers and progression for those already qualified.
Our team philosophy is; Maximum fun, freedom and adventure within the limits of safety, whilst paying attention to the marine environment.
We value every customer and do all that is possible to guarantee a memorable experience.
Our professionally trained, knowledgeable staff are on hand to help you at any time with all your questions and requirements.
Discover this and much more at Aquarius dive center, where quality is more important than quantity.
Safety
Always Quality over Quantity
Every time we go diving, the safety of all on board is of paramount importance.
We always limit groups sizes in the water. This ensures not only that we provide more personalised service, but allow our dive team maximum control. This way, any problems which arise can be addressed before they escalate.
There are always emergency oxygen, first aid supplies and surface support present when we are diving.
All equipment is serviced and maintained well within limits dictated by the industry and local law.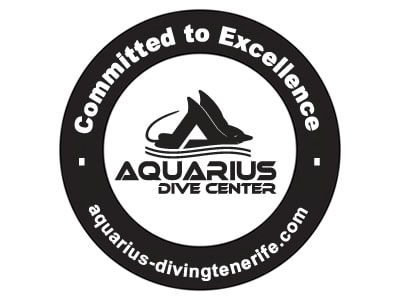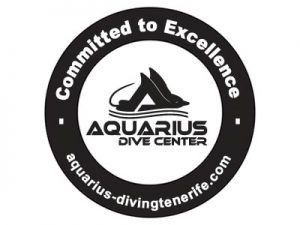 What we can offer
Everything under one roof
Aquarius dive center Tenerife is an accredited PADI 5 star facility and a Scubapro S.E.A. dive center. We are proud to say our dive center was the first in the Canary Islands to be awarded this status by Scubapro.
The dive center is based in El Fraile, on the south side of Tenerife, a few minutes away from the beach and harbour of Las Galletas. We are just 10 minutes from Las Americas and Tenerife South Airport – TFS.
PADI 5 Star Dive Center
At our PADI 5 star dive center we teach to the PADI standards using all the necessary teaching materials and documentation.
If you are an instructor, or visiting from a dive center in another country, it may be possible for you to use our facilities to train your own students here. Please feel free to contact us for more information.
SEA Authorised Dive Center
Scubapro Authorized Dealer, Dive Shop
We are an authorized Scubapro dealer, check out our shop or online webstore for our wide range of dive equipment to suit all requirements.
The dive center is easy to reach by car and there are always plenty of parking spaces.
Scubapro Dive Equipment, School and Rental
We are an authorized Scubapro Dealer. We have a comprehensive range of Scubapro dive equipment used in our school, for rental and in our shop.
We pride ourselves in keeping the school and rental equipment in excellent condition. Everything is maintained and looked after by qualified Scubapro technicians.
Filling station and service room
Air Refill, Nitrox and Trimix
In our full authorized compressor room we fill Air, Nitrox and Trimix. If you have your own cylinder you are welcome to refill them here. We are proud to offer best gas filling service on Tenerife. In our professional Team we have full qualified Tec Gas Blender Instructors including Trimix Gas Blender Instructor Trainer
Equipment Maintenance and Repair
Our Repair/Maintenance section is furnished with up to date equipment and testing tools. Between our staff there is more than 26 years of experience in this field and a grand total of more than 1,500 regulator services. All have been trained by the dive equipment manufacturers.
We are always happy to help with any issues you have. Just pop in with your gear and let us have a look!
Our Experience
Aquarius Dive Center has been offering high quality diving services since 2005. We are situated in El Fraile, just a few hundred metres from the harbour of Las Galletas, South Tenerife.
Team is qualified to teach more than 20 PADI specialties. They also hold professional qualifications in Technical diving, First-Aid provision and boat handling.
As Authorised PADI TEC/REC Facility we can offer full range of Tec courses up to Instructor levels